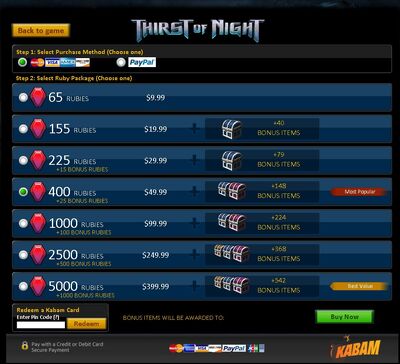 Rubies are vendor currency used to purchase game "items" to advance your city or army faster than waiting out the required cool down periods for building, training, travelling or (resource) production periods. Items that can be purchased include (but not limited to) Lilith's Luck tokens, Resources, Nanos to aid production, Speed up Boosts, Armour, Completion Upgrades, Blood Pacts, Instant Razes, Gargoyle Pups. Items are purchased using the Shop button in the lower control console.
Rubies can only be purchased through PayPal, credit/debit card.Occasionally, Kabam opens contests or give-aways with prizes that normally consist of rubies or items.
Ad blocker interference detected!
Wikia is a free-to-use site that makes money from advertising. We have a modified experience for viewers using ad blockers

Wikia is not accessible if you've made further modifications. Remove the custom ad blocker rule(s) and the page will load as expected.